Fortune Technology is a trade only distributor of notebook chassis, but with a difference!

Fortune Technology is your ideal trade only notebook solutions provider with one goal - providing custom notebook solutions to the trade at the lowest possible price. The Fortune technology website has been designed to give you control of your notebook procurements by allowing you to configure custom notebook solutions for your customers online quickly and easily. Whether you prefer to purchase a fully customised notebook assembled and tested, or barebones chassis and components for assembly at your facility, we can help.

Before purchasing from Fortune Technology you will need to open an account. We can offer cash with order accounts or credit facilities, subject to approval. Once your account is open you will be able to:
Configure custom notebooks online to your customers' requirements.
Purchase barebones notebooks and/or components un-assembled.
Order spare parts and Raise RMA requests online.
Download drivers, updates, information and assets - giving you the sales tools you need.
View a statement of account and print off invoices for your purchases.
Speak to our expert technicians when pre-sales and after sales advice is needed.
We provide you will all the assets you need to help increase your sales and minimise the time you spend on each sale.



Who is Fortune Technology?

Fortune Technology is a trading name of - an established system integrator based in the north of England, UK. acquired the brand Fortune Technology from Fortune Technology Ltd in July 2011. If you are a bricks and mortar computer store or equally an online etailer that provides notebook solutions - we are you ideal partner.

We can provide barebones chassis or fully assembled customised solutions tailored to your customers' requirements. We specialise in providing notebooks for several vertical sectors, such as music production, gaming, video and photography.
How can I buy from Fortune Technology? What do you offer?

Fortune Technology only caters for trade customers and before you can purchase from us you will need to apply for an account. We offer two ways to purchase:
We can custom assemble notebooks to your customers requirements. We will provide a full solution, consisting of the chassis itself, along with the CPU, GPU, HDD, ODD, RAM and so on.


We can provide barebones notebook chassis and/or components allowing you to assemble at your facilities using your choice of components.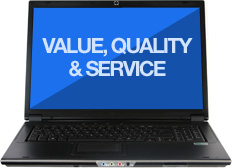 Respected in our industry!

Fortune Technology is a Microsoft Certified Partner, which demonstrates our commitment to skills & training. We're also respected as an Intel Premier Provider - showing our commitment to providing the latest Intel technology and quality.